This article is republished from The Conversation under a Creative Commons licence.
We need to begin conversations on the challenges facing farming communities. Changing demographics in small-scale farming have had a severe impact on agriculture and affect farmer motivation, especially among youth.
Agriculture has always been a necessity. However, we rarely take time to understand the realities of the industry as urbanization moves us further away from farming realities. When we do talk about food and agriculture, we pay limited attention to the "building blocks" of the industry: the farmers who toil on the land.
I believe it is necessary to remember the importance of the farmer and reflect on some of the hard realities of agriculture today, especially in rural communities.
I moved to Canada's east coast two years ago — to Newfoundland, to go to school. As part of my research I interviewed farmers here. During one of my interviews, a farmer told me:
"When I started 40 years ago, there were more than 35 vegetable farmers in my area, more than 35. I was only young, I was 19 but there were more than 35 then. If we wanted to have a meeting to discuss something, we had to hire a big building, a big room to have a meeting. Forty-one years later, one farmer, me. I am the only one left in that area making a living out of farming and I am 58."
This moment in the conversation came to define my project.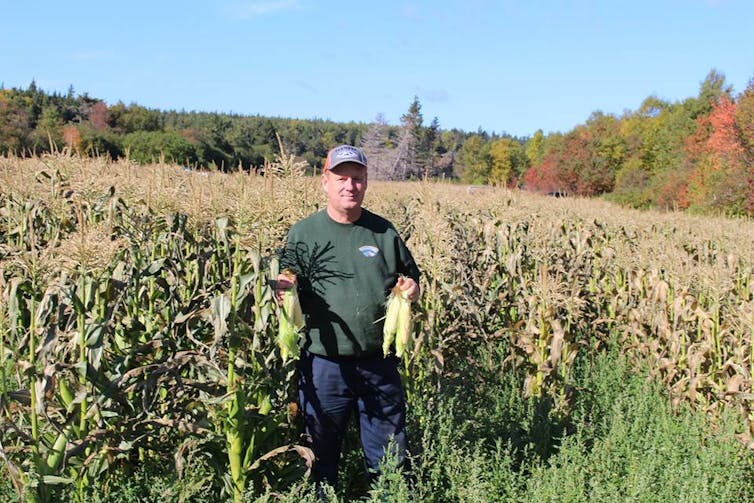 Demographic challenges
There is a demographic challenge in agriculture: the farmer population is aging and the number of farmers is declining. Farm operators in Canada are getting older according to the 2016 census of agriculture. The census also shows fewer farms.
The other issue is that many farms lack plans for succession. Who will farmers pass the farm on to if they are unable to interest people in farming?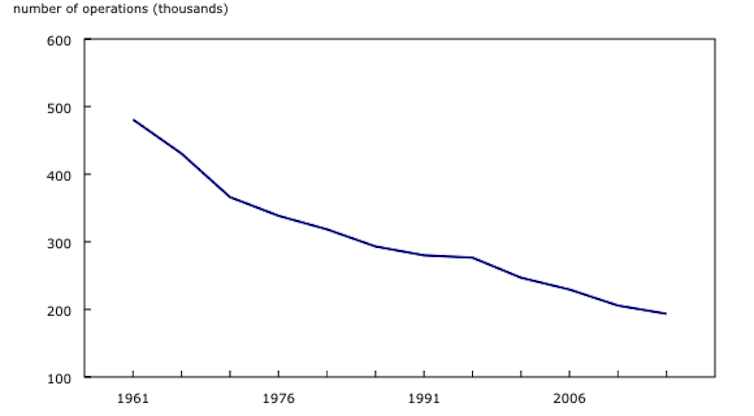 In 2014, one in eight Canadian jobs were linked to agriculture. But this figure comes mostly from big farming and is not the case in Newfoundland and Labrador where small-scale farming is more common.
Here, the average age of a farmer in was 55.8, above the national average of 55 years. From 2001 to 2016, the number of farm operators declined by 35 per cent, and the number of farms shrunk 37 per cent in the same period of time. These rates are among the highest in the country.
Statistics Canada has been warning of this trend for a while now. But how seriously are we taking it?
The economic benefits of agriculture and the possibility of meeting our global food needs decline steeply if we do not halt this drop in farmer numbers.
The drop is attributed partly to the growth of larger farms. However, there appears to be another reason: the nature of the job itself.
Challenges like uncertainty, unprofitability in some sectors and lack of competitiveness are among the many reasons younger generations say they don't want to farm.
How can we attract a new generation to this vital work? The answer may lie in policy changes.
Motivating new farmers
In my preliminary research in Newfoundland, using in-depth interviews, I discovered that farmer motivations are complex. They include a wide range of factors, which are determined by the socio-cultural, institutional/political, economic and environmental contexts.
Some reasons given for farming include: the need for autonomy (farming to have control of over your life and choices), competence (farming because you have the ability to do so and believe in the work), and relatedness (farming to serve the community, to repay society, to get connected with family, community or the natural environment).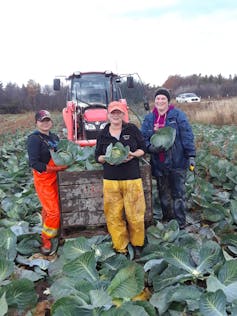 Farming has everything to do with motivation.
Access to financing and land are instrumental in getting people into farming, and they form the main focus of government interventions in many parts of the country.
However, they may not be enough to interest people in farming unless a holistic approach, acknowledging and incorporating other motivations, is adopted. We need to appreciate what attracted the current farmers and what keeps them going.
Keeping farmers on the land
"I don't think interest in agriculture is gone yet. No. But we've got to start putting more bolts to keep it in place," said an older farmer.
If Canada wants to become a global leader in agri-food and take a leadership role in global food security, we must begin conversations on the types of policy needed to attract and retain farmers, especially among youth.
Small-scale farming brings unique social and cultural identities to many places in the country; perhaps we can help preserve these spaces.
To do so, governments and other policy-makers must appreciate the diversity of motivating factors, especially for young farmers. This can partly be achieved by building strong farming communities that allow beginners to have a sense of belonging.
Enacting policies that encourage diverse farming models — including small- and large-scale, conventional and organic farms — and creating incentive packages that are particular to specific models, and which level the playing ground, would likely go a long way.
This could help attract new farmers and retain those currently on the land.